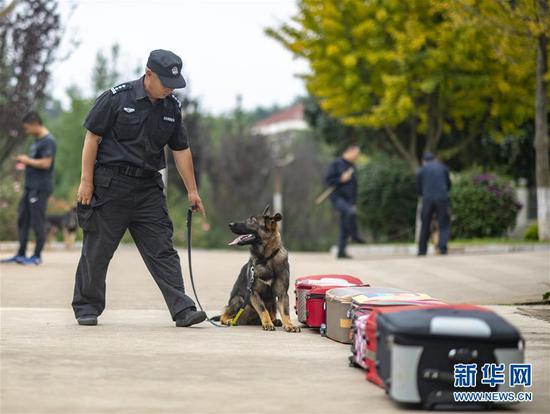 Kunxun, a cloned female of the Kunming wolfdog breed, takes a rest at a training base in Kunming, Yunnan Province, Aug. 22, 2019. (Photo/Xinhua)
Special: 70th birthday of PRChina
(ECNS) -- Kunxun, a cloned female of the Kunming wolfdog breed, completed training and started police dog service in Kunming City, Yunnan Province on Thursday.
Born on Dec. 19 last year in Beijing, Kunxun arrived on March 5 for training at Kunming Police Dog Base of the Ministry of Public Security.
She was cloned from the great detective dog Huahuangma, which won first-level merit from the ministry for helping murder investigations.
According to a test by an institution, Kunxun's DNA is over 99.9 percent identical to that of Huahuangma.